Amenities
One of the many reasons that the Best Western Plus Ellensburg Hotel is among the top places to stay in the city is because of our large comfortable guest rooms. Your best hotel deals feature cozy and inviting lodging that add comfort, convenience, and value to any stay.
Whether you are traveling alone or with a group, you can find better accommodations on the hotel rooms that are the perfect size for your needs. Included in each room are better standard amenities such as free high-speed Wi-Fi Internet connections, cable TV with HBO, and safety deposit boxes accessed from the downstairs lobby.
The deluxe suites offered have either the option for a kitchenette or an in-room hot tub. Standard guest rooms offer ample room for anyone in your party to stretch out, relax, and enjoy a great night's sleep. Whatever you need for a memorable vacation, you will find it here when you book with us.
Other hotel amenities include:
Exercise facility 24-Hour
100% smoke-free hotel
Complimentary breakfast
Free Wi-Fi
Heated indoor pool with adjacent patio for sunbathing
Hot tub
24-hour front desk
Dry cleaning
Free parking
Safe deposit box available
Cable or satellite television with HBO®
Business center
Accessible facilities
Laundromat, available 24-hours coin operated with soap dispenser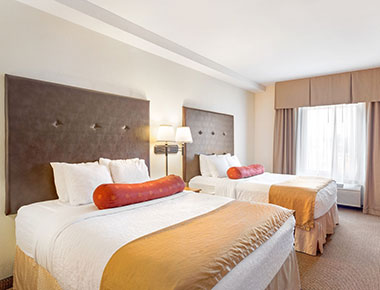 2 Queen Beds Room
Two queen beds make this standard guest room option the perfect value for any family trip or group travel need. With two large guest beds, everyone will find plenty of leg room, as well as more than enough space to enjoy the in-room cable TV or the high-speed wireless Internet connection.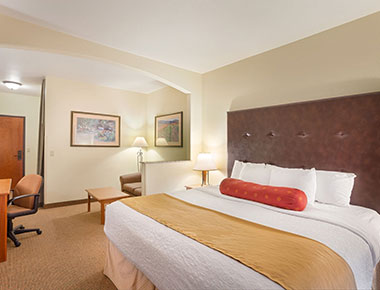 1 King Bed Room
Your king bed standard guest room is a great value for any couple's trip or solo travel need. Business travelers will appreciate having a guest use desktop computer in the lobby business center, while others will love connecting to the convenient in-room wireless Internet. The private bathrooms feature granite countertops and a matching granite shower.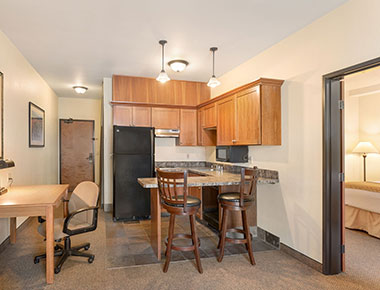 1 King Bed Suite
Our most spacious and equipped room selection is our king bed suite with deluxe furnishings. The extra living space, kitchenette, and sofa make for a home away from home experience. Enjoy the high-speed internet access, full breakfast, and all of the included amenities that come standard in every room.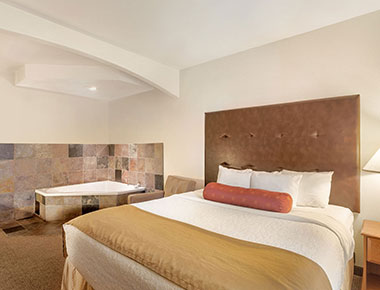 1 King Bed Jacuzzi Suite
Whether you are looking for better business travel accommodations or you are looking for the best lodging options for a romantic weekend getaway, the king bed Jacuzzi suite is one of the best hotel deals around. This spacious guest room offers our largest bed, as well as a private Jacuzzi tub.
Guests looking for accessible options to fit their needs will find comfort in our king and queen bed accessible selections. Offered in a two queen bed room, one king bed room, or one king bed suite, there are choices for any traveling need. In addition to all of the standard amenities we offer, these rooms are equipped with a visual fire alarm, shower safety bar, bathroom rails, and other added features.